Custom-Paddle-Board-SLIDER
Custom Paddle Board Manufacturer
Your Reliable Custom Paddle Boards Manufacturer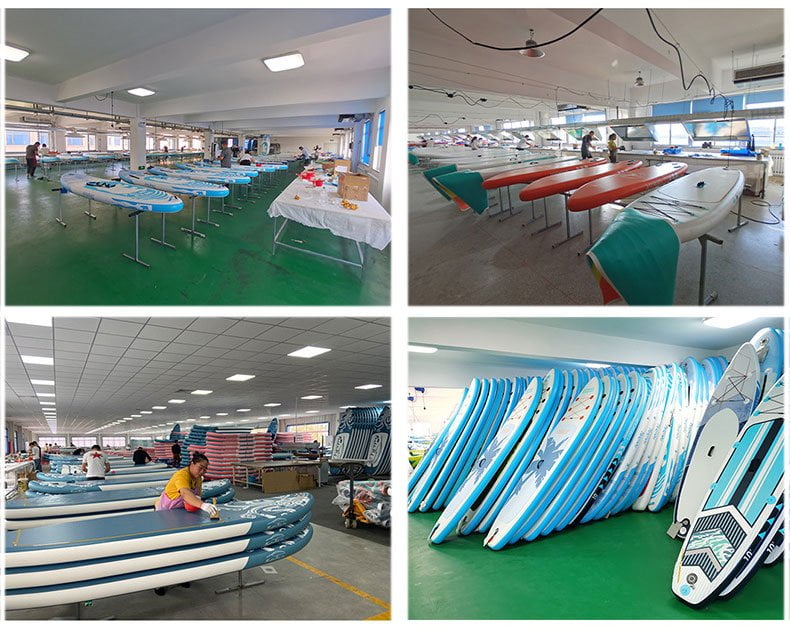 Inflatable paddle board sporting has been famous among water sports enthusiasts nowadays. Some companies prefer to print brand logo on paddle boards to promote the brand or give them away as gifts.
Moloy strives to be the most professional custom paddle boards supplier for brand owners, SUP rental center, or wholesalers.Our cost-effective custom paddle boards including all-round board, racing boards, yoga boards, touring boards, surfing boards. We can do your logo on the paddleboard, bag, paddle, or pump.
The custom paddle boards are made of PVC, drop stitch, EVA.
Over 10 years in manufacturing custom inflatable paddle boards area.
Advanced UV printing to ensure the color bright and durable.
Large production capacity per year- 100,000pcs+
Skilled workers and strict quality control to ensure durable quality.
Completely design custom SUP boards for wholesalers, brand owners.
Custom Paddle Boards Process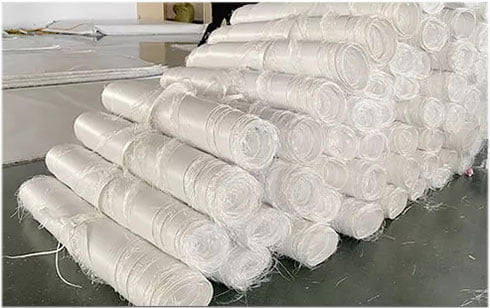 The durable drop stitch fabric will be cut into accurate shape by advance cutting machine.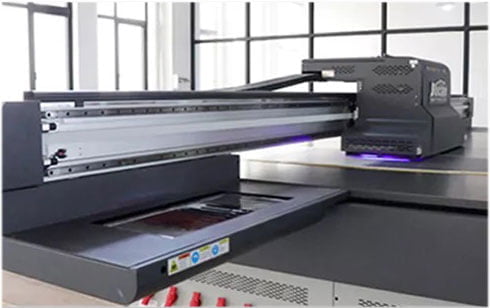 Make your design bright and durable with imported UV printing machine.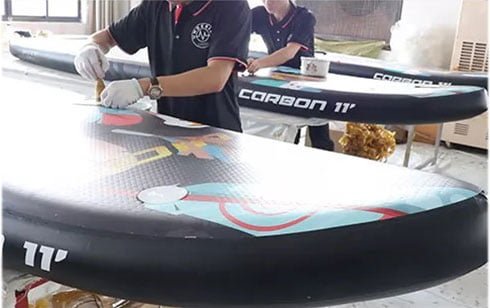 To make the SUP board better adhesion and greater performance.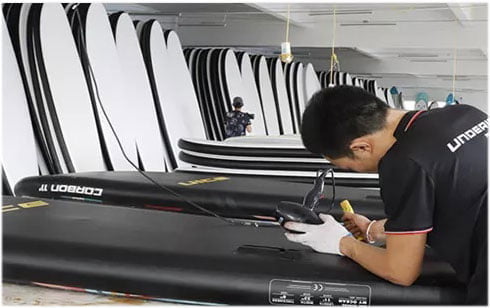 Skilled Workers will add the EVA pad, fin base, handles, and D-rings on the board with handwork.
Advantage Of Moloy SUP Board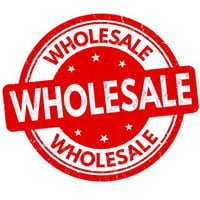 Wholesale Price
We only do bulk SUP boards for brand owners or wholesalers. You can get incredible inflatable paddle board.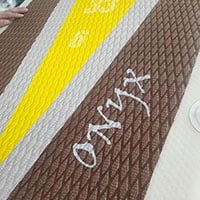 Splicing EVA
The EVA pad is spliced on the ISUP board. It does not easily lose color than printing on board.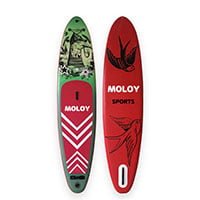 Fully Customized
Stand up paddle board can be completely customized with your brand according to your design.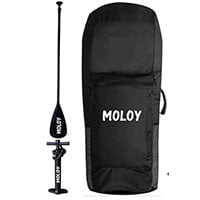 Accessories Included
The ISUP board set package includes bag, custom paddle, leash, pump, repairt kit, etc.
The ISUP board structure consists of drop stitch core, PVC layers, anti-slip EVA deck pad, double layers rail bands, stainless steel D ring, high pressure valve, removable fin, soft handle, and mounted bungee system.
The inflatable custom paddle board core is made of drop stitch fabric. Drop stitch core consists of two parallel sheets of fabric that are connected by thousands of threads. When the space is inflated, it can maintain a board shape not curving outward.
The outside PVC layer can be digitally printed based on your design.
The rails are made with double rail bands. The edge is made by joining the top and bottom sheets of the board using reinforced PVC-coated materials. Dual rail construction is the most common rail configuration.
The EVA pad is spliced with your pattern and installed on the top of board. This process can avoid color lose.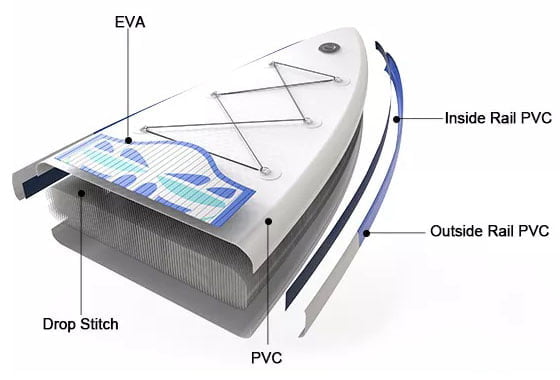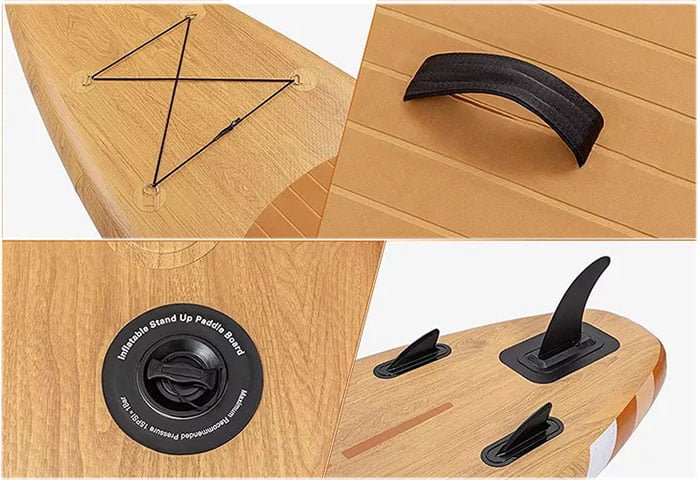 Moloy custom paddle boards are made of durable material and processes strict quality control. It ensures the SUP boards can be used for long time under different conditions.
EVA deck & PVC reinforced sheet are machine pressed.
All materials are UV-proof to ensure performance under sun exposure.
The board material has the advantage of scraping and impact resistance.
Inflaming retarding material makes the board safer during use.
The anti-aging properties of materials make the board work longer time.
Inflatable Custom Paddle Boards FAQ Quide
Do you offer personalized paddle boards design service?
Yes, we can offer some examples and add your brand logo/color on current design. You could also provide your own design.
How to ship the bulk inflatable SUP board?
We can ship the goods by sea, or by ship+local express. That would be cost effective. You could also choose other shipping ways.
What's the capacity of a custom stand up paddle?
Our regular stand-up paddle board capacity can be up to 170kg.
How do you do the quality control of custom paddleboard?
Raw Material Test:
We would do stripping, stretching, and tearing tests on the drop stitch and PVC with the tensile machine before bulk production.
Check if the pattern and color match with customers' designs.
Accessories Check
Check if the pump works well.
Check the paddle size and good assembly.
Check if the pattern on the accessories is printed right.
Cutting inspection
Check the shape and size of the drop stitch match the drawing.
UV printing inspection
Use Pantone color card to check the color matches with the drawing.
Glue test
We would check the PVC base, rail sides and fins to ensure there are no glue issues.